Sold

1795 MUIR STATION ROAD
Fayette County $675,000


25 Acres
Property Description
It's difficult to put into words the uniqueness of this 25-acre farm located on Muir Station…...
A horse farm - yes!!
Income producing - yes!!
Potential - yes!!
Location - yes!!
To start with, you'll discover a unique 6,000 square foot brick building, originally designed for an animal shelter with living quarters. The owner has leased the building to a noted builder/woodworker, and he and his wife have transformed this into their home and woodworking shop.
A 1,560 square foot frame tenant house featuring random-width hardwood floors with 3 bedrooms and a full bath. The farm is fenced for horses and features a 12-stall barn and a frame run-in shed plus 4 fields/paddocks.
For more information, contact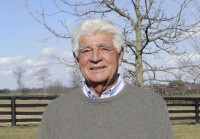 Bill Justice
JUSTICE REAL ESTATE
518 East Main Street
Lexington, KY 40508
Phone: (859) 255-3657
Find your place in the Bluegrass