CONTINGENT

187 HARP INNIS ROAD
Fayette County $1,995,000


146 Acres
Property Description
Located in the heart of the Thoroughbred industry and just a half mile off prestigious Paris Pike, Waggoner Farm has a long history of producing exceptional race horses. 2011 Champion Filly ZAZU and 2017 Grade I Winner CUPID are just two recent graduates; also notable horses YES ITS TRUE and TERLINGUA (the dam of Storm Cat) were raised here.
An exceptional working horse farm, Waggoner Farm (formerly the Tom Gentry Farm) is comprised of 63 stalls in 5 horse barns. Additional horse improvements include an office, equipment sheds, hay barn, automatic walker, and let-down pens. Housing includes a nice 1,720 square foot story-and-a-half manager's home plus a three bedroom, two bath double-wide for staff.
Two entrances add to the farm's desirability and function.
For more information, contact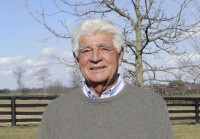 Bill Justice
JUSTICE REAL ESTATE
518 East Main Street
Lexington, KY 40508
Phone: (859) 255-3657
Find your place in the Bluegrass