Sold

1893 MUIR STATION ROAD
WALNUT SPRINGS FARM

Fayette County $5,995,000


268.85 Acres
Property Description
In 1929, Robert Sterling Clark, of Clark Thread and Singer Sewing Machine millions, decided he wanted a thoroughbred breeding establishment in the horse capital of the world. He wanted the land to be rolling enough to exercise a young thoroughbred's muscles and a plentiful supply of bone-building calcium from the limestone underlying the soil - but not too far from the soil. After a careful survey of available farms, he purchased Walnut Springs Farm. Now this farm, with its pure natural beauty, rich soils, and profusion of mature trees is available again.
The centerpiece of Walnut Springs is its stone-wall-enclosed 11,000+ square foot, six-bedroom, seven-and-a-half bath main residence. Featuring stone walls, bluestone patios, outdoor kitchen, gas fire pit, salt-water pool, and lovely pool house.
Horse improvements include 66 stalls in seven barns, miles of plank fencing, and paved roads. Additional improvements include a manager's house plus two employee houses, a large shop/storage building, and five-bay open equipment shed.
For more information, contact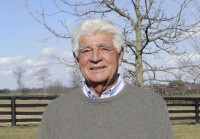 Bill Justice
JUSTICE REAL ESTATE
518 East Main Street
Lexington, KY 40508
Phone: (859) 255-3657
Find your place in the Bluegrass